Redcat HEXFLY HX-705 40W AC/DC 5 Amp Fast RC Battery Charger for NiMH/NiCD Packs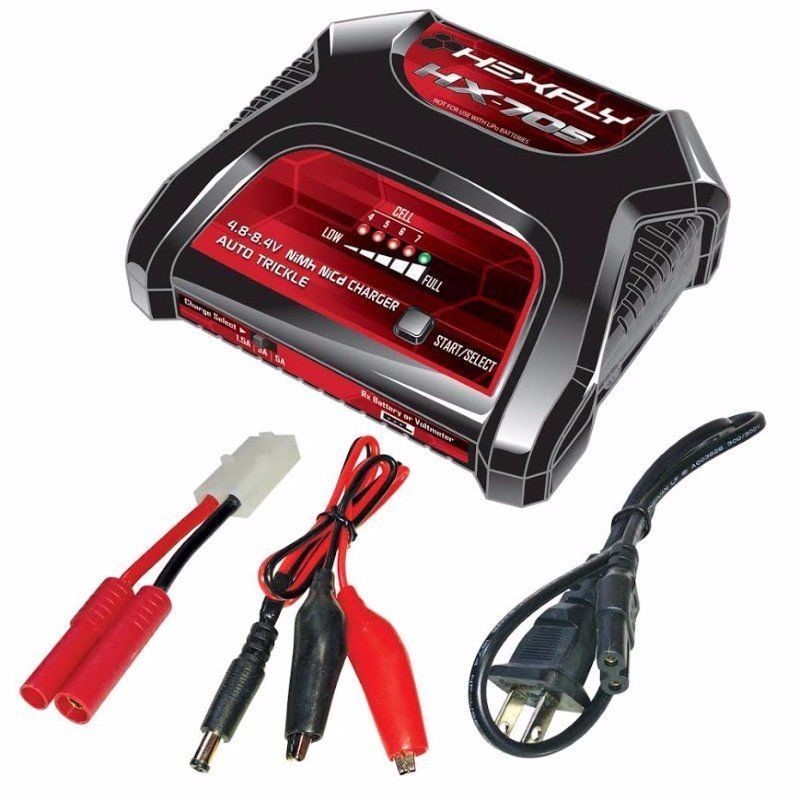 This is a brand new, in the factory packaging, genuine Redcat Racing Hexfly HX-705 5 amp fast RC battery charger. The Hexfly HX-705 is Redcat Racing's fastest NiMH/NiCD battery charger. Maximum charge current is 5 amps, which is almost 10 times faster than Redcat Racing's RTR NiMH wall chargers that are included with their brushed vehicles. So you can spend more time now having fun driving your great RC car and less time waiting on your battery to charge.

You are able to adjust the charge current from 1.5 amps to 5 amps; and it includes a built in power supply, so you can use it in the house with AC input or out at the track or park with DC input. It also includes adapters for Tamiya and Banana 4.0 plug connectors for easy charging for batteries with both types of connectors. This is a great deal, so order yours today and stop waiting on your batteries to charge.



Specifications:
AC Input: 100~240V
DC Input: 11~18V
Battery Support: NiMH and NiCD Batteries
Protection: Voltage Peak Protection
Charge Current: 1.5A, 3A, 5A Switchable
Ports: Two output Ports, Tamiya and Futaba-J Port (includes Banana 4.0 connector adapter)
Charge Power: Maximum 40 Watts
Everything we sell is brand new, in the factory packaging, genuine, and comes with the manufacturer's warranty.
Redcat HEXFLY HX-705 40W AC/DC 5 Amp Fast RC Battery Charger for NiMH/NiCD Packs
Related Products